You can shave, drill, or clip our models with actual surgical equipment just like you would with actual human tissues.
Based on patient's CT/MRI data, the inner structure is precisely recreated.
Why we named our products KEZLEX:
Kezulu means "to shave" or "to drill" in Japanese.
Kezurelu, a conjugated form of Kezulu, means "can be drilled" or "can be shaved."
We added "ex" to express our models excellence, and "x" to express that we will manufacture any kind of models upon your request.
---
ADVANTAGES
A tool to suport more accurate, more efficient, less invasive surgery.
FEATURE
1
3D modeling based on CT/ MRI scanning data
FEATURE
2
Minute tissues precisely recreated
(e.g. aneurysms, ossicles)
FEATURE
3
Tubular tissues precisely recreated
(e.g. neural tubes, semicircular canals)
FEATURE
4
Soft tissues precisely recreated
(e.g. aneurysms, tumors)
FEATURE
5
Manufactured with materials of your choice
Drilling of hard tissues resembles drilling of actual human bones
(e.g. skull base, temporal bone)
Stretching/cutting of soft tissues resembles stretching/cutting of actual human tissues
(e.g. brain, aneurysm)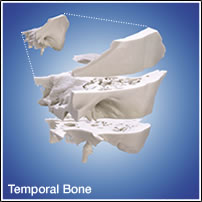 APPLICATION
Presurgical simulation

KEZLEX precisely recreates the inner structure, so you can discuss and run through the optimal surgery among your team using actual surgical instruments.
(e.g. endoscopic surgery, anastomosis)

Education for surgeons and medical students

It can be amplified or segmented, so it is the best tool for educational purposes.

Patients

You can explain clearly the surgical procedure to your patients.

Implants

You can mirror image the patient's normal regions to make implants.

Manufacturers of medical equipments

Manufacturers can demonstrate the use of their equipment at exhibitions.